History of the Tacky Light Bulb
Tacky lights date all the way back to 1882 and can be attributed to Edward H. Johnson, the forefather of tacky lights and an associate of Thomas Edison. On December 22 of that year Johnson placed a Christmas tree that was hand-wired with 80 walnut-sized lights in the living room of his Fifth Avenue home in New York City (pictured right). He was vice-president of Edison Electric Light Company (now known as Con Edison electric utility) and commissioned employees to patriotically wire the tree with red, white and blue lights.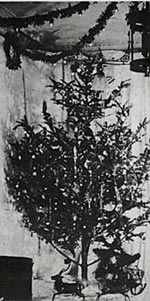 His idea blazed across the United States like a flame held to the bark of a dry evergreen wrapped with strung popcorn. This ultimately led to the invention of weatherproof Christmas lights in the 1960s. Competitively tacky families across the country soon moved their indoor Christmas lights outdoors, and originally outlined their homes. The notion of outdoor Christmas lights and displays sparked a frenzy of lights that blink, twinkle, chase, resemble icycles and shape into various figures.
More recent advances in technology and environmental awareness has pushed companies to produce more efficient products including LED Christmas lights. Boasting longer lifetimes and virtually indestructable construction, LED Christmas lights are the new craze. Even though LEDs are a bit more expensive, a 90% savings in energy has made LED Christmas lights the future of the Tacky Lights Tour.
All in all people have always strived for creativity whether that be artistically tasteful or not. Over the past 45 years we've seen the adaptation of flickering lights, lifesized lawn props, animated scenery and even low-powered radio stations. It can only be assumed that with every technological advancement, those advancements will be used by many to warm the hearts and minds of Christmas lovers throughout the world.
Richmond Virginia's Guide since 2005
Time to Dispatch Richmond
to the Tacky Lights Tour
Established in 2005 we have been Richmond's source to Christmas lights for 18 consecutive years dispatching comprehensive news, driving directions and tools to plan your self-guided Tacky Lights Tour.